Fort Worth Country Day: Forward Together
Fort Worth Country Day was established with the aim of providing the children of Fort Worth families access to academic and co-curricular programs that rivaled the finest schools in the country. Welcoming the first students in the fall of 1963, FWCD has been committed to achieving this goal ever since by engaging highly qualified and talented educators, coaches and staff.
The Founding Board of Trustees worked tirelessly to turn their vision of a day school into a reality – one that prepares students to meet the challenges of life as they pursue meaningful education and worthwhile careers, raise families, and contribute to their communities.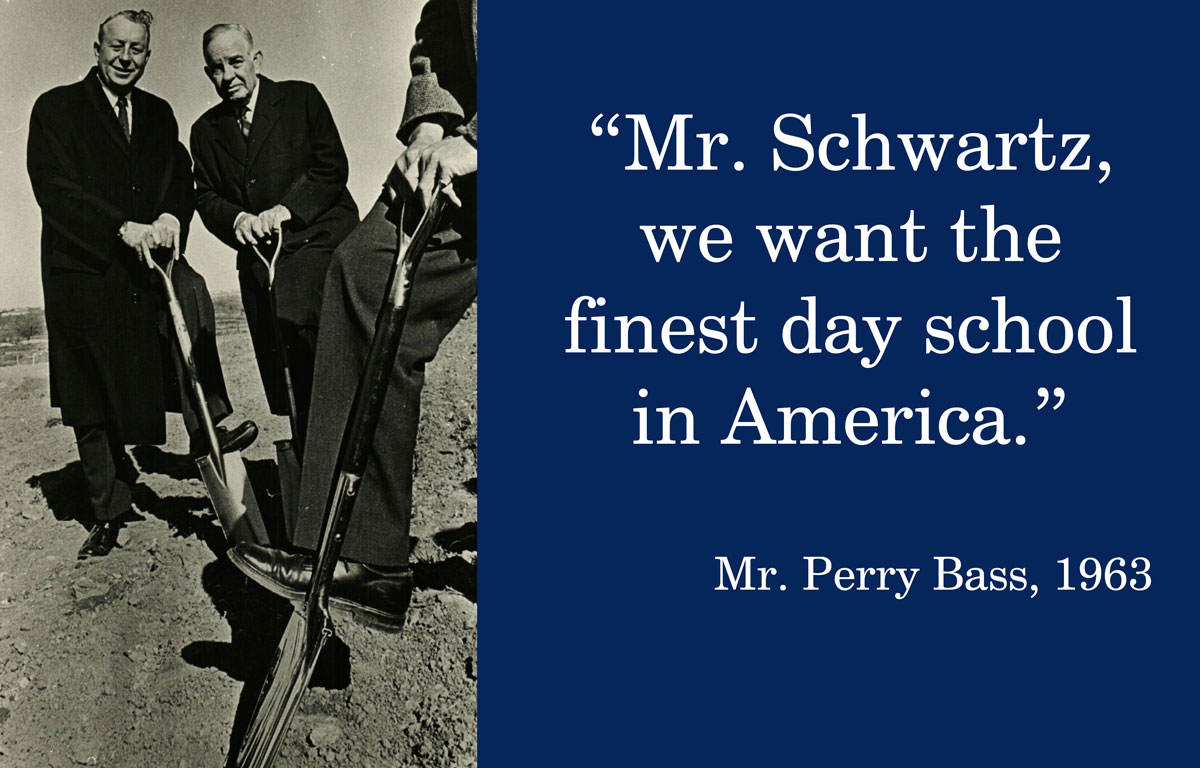 To carry forward the legacy of our Founders, it is now time to expand and further fortify the School's financial future. This involves bolstering our endowment and improving our academic and athletic facilities to create educational environments that not only meet but exceed current and future academic standards.
---
Letter from Campaign Co-Chair William Butler '96
---
From Here, Anywhere …
Forward Together
Fort Worth Country Day's Forward Together Comprehensive Campaign supports a bold vision that, when achieved, will connect the School's initial 60 years with the next 60, creating a lasting, vibrant and inclusive community and campus with programs, faculty and facilities that inspire engagement, excellence and a sense of belonging.
A Comprehensive Campaign is one of the most important ways any school at any time over the history of independent schools has been able to take themselves forward.
—Eric Lombardi, Head of School
Goals and Priorities
Fort Worth Country Day aims to meet the long-term needs of our students and our city by providing the Best Teachers, Best Teaching, and Best Teaching and Learning Environment. Achieving these priorities will ensure FWCD's ability to continue delivering leading-edge education, which is essential for the development of future leaders for our community, our city and our country.
Built upon the School's strategic plan and campus master plan, the Forward Together campaign encompasses four distinct priorities, each supporting the FWCD's mission and each meeting critical goals that serve our students, families, faculty and the city of Fort Worth. The priorities are:
Endowment for Sustainability - $8 million
Lower School New Construction - $24 million
Athletic Fields Enhancement - $3.5 million (funded)
FWCD Fund - $4.5 million
---
---
FWCD – A School of Significance
The Forward Together Comprehensive Campaign provides the means to ensure Fort Worth Country Day continues to fulfill its mission set forth in 1963 and continues to nurture this vision for the future. Each Founder and successive generation of supporters – our parents, alumni, grandparents, friends, faculty and staff – have played a part in contributing to this ongoing masterpiece of an exceptional school. Our programs are strategically and wisely engineered and aligned toward our calling to cultivate enthusiastic, thoughtful, well-rounded and responsible young global citizens and leaders who are exceptionally prepared to excel in college and beyond.
Join Us: Ensure Fort Worth Country Day's Future
Fort Worth Country Day exists and thrives today due to the care, vision and action of its trailblazing Founders and those who have followed in their footsteps. The School has exceeded its ambitious goals over the decades, thanks to the commitment of many generous individuals and families in our community. The returns on our Founders' investments are immeasurable – and stand as a testament to their foresight.
We invite you to stand alongside them and add your legacy to the next chapter by participating in From Here, Anywhere… Forward Together, The Comprehensive Campaign for Fort Worth Country Day, the most meaningful, ambitious expansion and improvement initiative in the School's proud and storied history.
---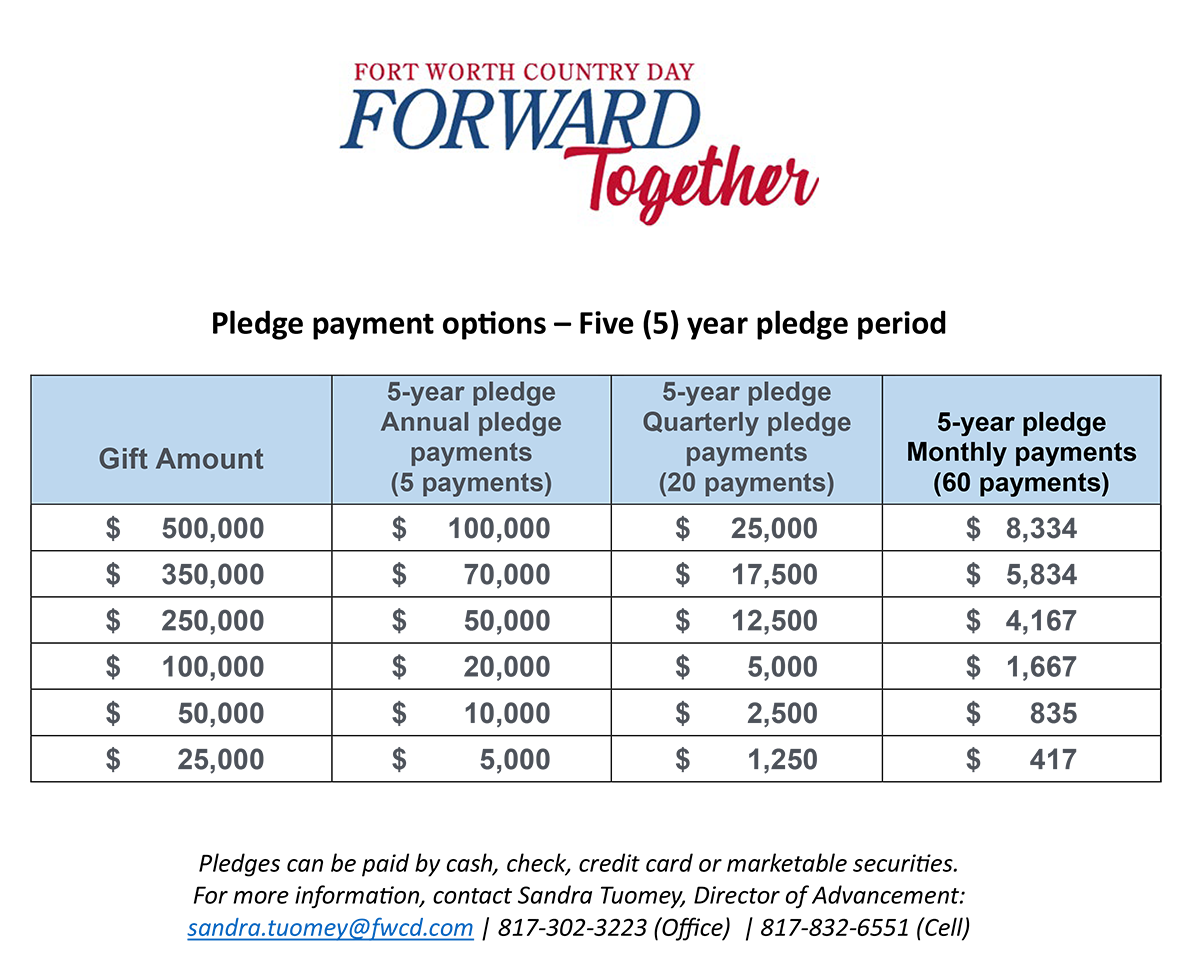 ---
Campaign Leadership
Honorary Chair
Kit Tennison Moncrief '70
Campaign Co-Chairs
William Butler '96, Organization and Operations Co-chair
Gloria Moncrief Holmsten '00, Leadership Gifts Co-chair
Heather and Ryan Senter, Constituency Co-chairs
Campaign Member
Gantt Bumstead
Brian Crumley '92
Randy Eisenman '93
Bryan King
Stephen Luskey '01
Rob Semple '95
Helen Todora
Michael Todora
Lower School Subcommittee
Helen and Michael Todora, Co-chairs
Claire and Joseph Berkes '98
Anne Carvalho
Larkin and Richard McMillan
Mary (Hallman) '03 and Dwayne Smith
---
---
---
Questions?
For more information, please contact Elizabeth Baxter at [email protected] or 817.302.3204.