Welcome to Upper School
This pivotal period is where career aspirations are shaped, loftier visions gain altitude, and wings spread in preparation to take flight.
Preparing for the challenges of college and beyond, students continue to cultivate and enhance their skills and knowledge. During these years, values are cemented, standards are elevated, and leaders are born.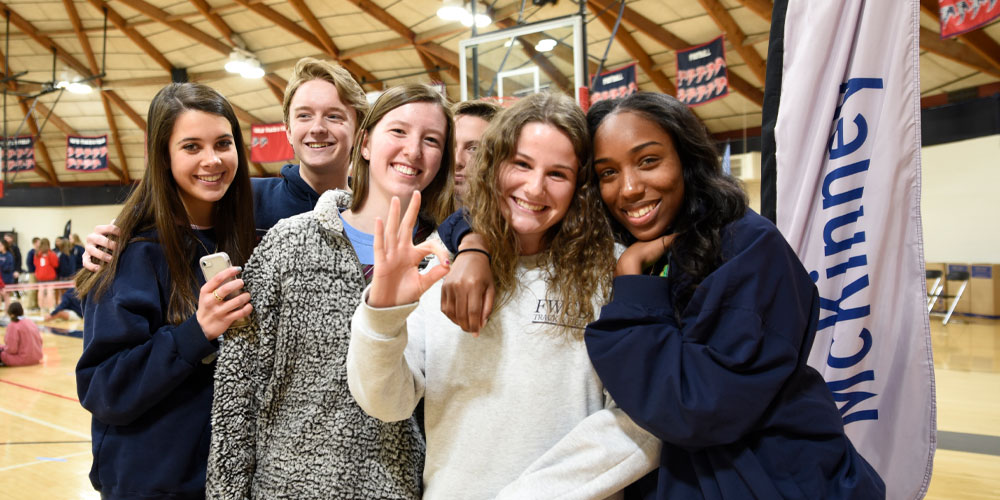 Excellent education is about more than just academics. It's about a complete experience that expands beyond the boundaries of what was ever thought possible.
The Bass Upper School, high school grades 9-12, excels at providing important academic and personal growth opportunities by having clear, high and achievable expectations appropriate for each individual. This includes significant support for these young adults in reaching their potential.
Our administrators and faculty work to ensure that all students feel welcome and are valued for their contributions, while also providing a safe space where they can share their talents and learn from one another while having fun. We are committed to the vital work in the area of community engagement and inclusion.
FWCD provides a rigorous and engaging educational experience, with our 3A's curriculum (academics, arts, athletics) and intentional supplementary programs. Teachers, counselors, advisors and mentors partner with students and their families to develop strategies for success throughout the high school years. Service to the School, to the community, and to humankind is a focus in all grades 9-12 and is an essential element for educating the whole student. Our alumni return to campus and share that they were well-prepared to enter college and their careers as thoughtful, responsible, hard-working leaders.
---
Questions
For more information, contact the Admission Office at 817.302.3209 or [email protected].
---
Upper School Distinctions
More than 100 course offerings (21 Advanced Placement courses an 3 post AP classes)
Four 75-minute classes daily
Emphasis on Core Values; TEAM Service student-led community service group
Grade-level deans and advisory program
Senior Capstone Project (interdisciplinary independent study elective with a faculty supervisor and mentor in chosen field)
Full visual and performing arts program with the ISAS Arts Festival each spring
Typically 30 JV and varsity athletic teams
Bring-your-own laptop program
Malone Schools Online Network
Elective course in engineering design
Trip opportunities through the Center for Experiential Learning: Sophomore Washington, D.C. trip, international trips, partnership with Fort Worth Sister Cities, summer science trips, partnership with Shoulder to Shoulder
College Counseling Office and related programming for all grades, including a College Fair in September for juniors and seniors and study seminars for freshmen and sophomores
Cum Laude Society and other academic affiliations
Link Crew peer mentor program for freshman
Full-time academic support coordinator and full-time health and wellness counselor
Solar Car initiative by students, including a summer opportunity to compete
Student Leadership: Student Council, Honor Council and Discipline Council