Music Conservatory
The Music Conservatory at Fort Worth Country Day is a private lesson program currently offering Piano, Guitar, Violin, Cello and Voice lessons to our school community.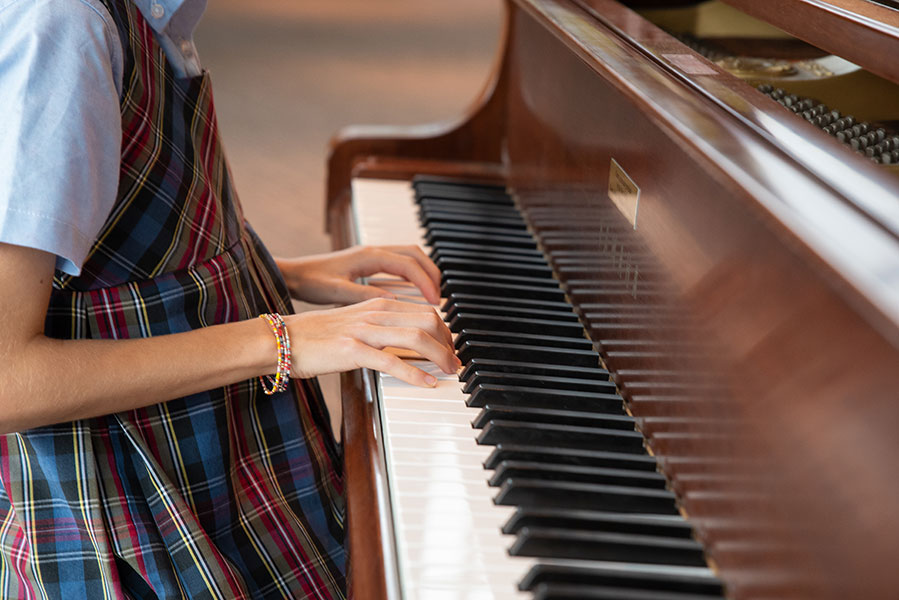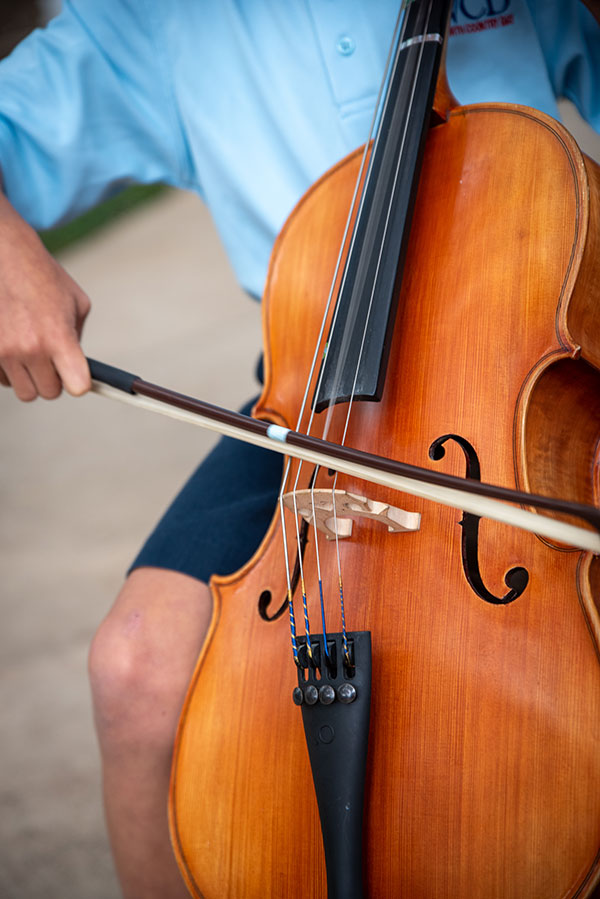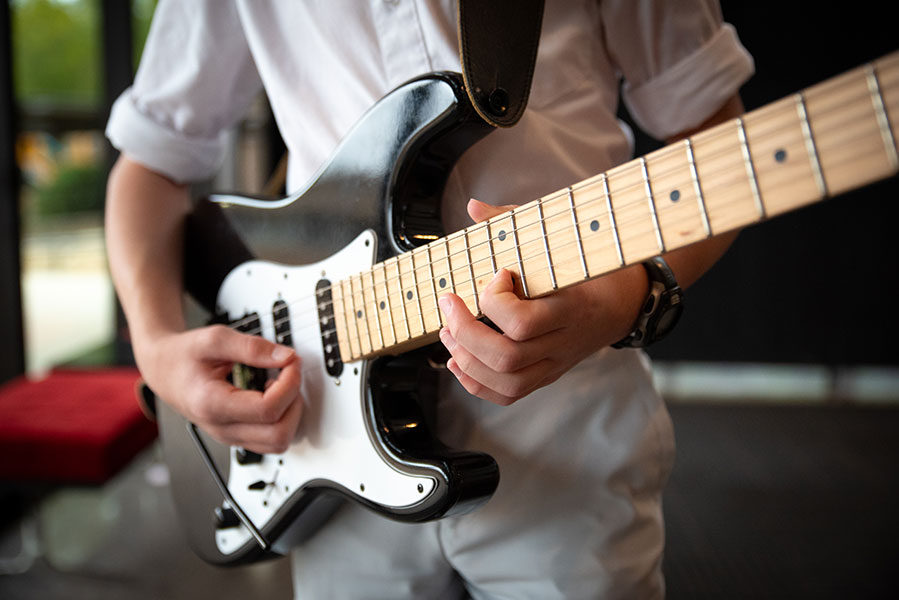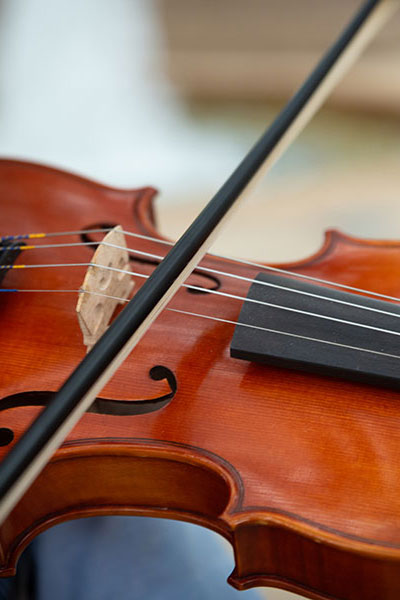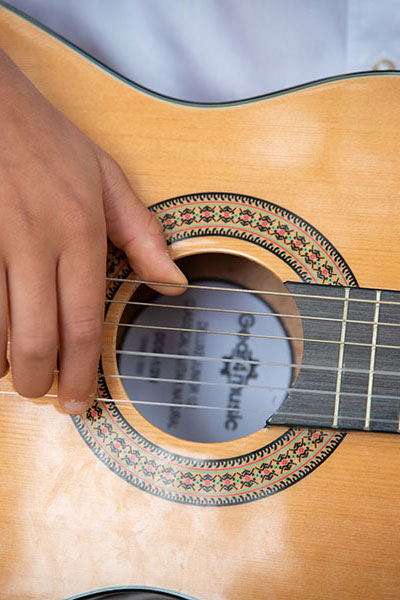 We partner with highly qualified instructors from across the metroplex to provide exceptional music instruction for our students.
The Music Conservatory program is designed to help young students to develop focus, fine motor skills, self-esteem, perseverance and a lifelong appreciation for music through private lessons. Individual lessons are hosted weekly after school on the campus of Fort Worth Country Day in the fall and spring semester. All levels of musical ability are welcome!
For inquiries regarding lessons at The Music Conservatory, please contact Melissa Scott at [email protected], Music Conservatory Coordinator.
---
Meet the Instructors
Melissa Scott, Coordinator, Voice

Melissa Scott is a vocal music teacher with over 25 years of experience teaching choir, general music, and private voice in Texas, Washington, and Doha, Qatar. Melissa holds a degree in Music Education from Baylor University and a Master of Music from University of Washington. At age 15, she decided to become a music teacher and has been following that path ever since. Melissa enjoys teaching students of all ages and currently works as a vocal consultant and private voice coach. Melissa has lived in Fort Worth since 2018 with her husband, Steve, and two daughters, Ava and Audrey. She is proud to be a part of the Fort Worth Country Day school community as a parent, and looks forward to stepping into a new role as Coordinator of the Music Conservatory.
Melissa Scott
Music Conservatory Coordinator
[email protected]
Marina Dichenko, Violin

Marina Dichenko studied violin in Kharkiv, Ukraine, at Central Music School. She continued her studies at Gnessin's Academy of Music in Moscow, Russia. In 2014, she graduated with an Artist Diploma program from Texas Christian University School of Music.
As a soloist and member of chamber groups, Ms. Dichenko has traveled and performed in Ukraine, Russia, Belgium, Japan and the U.S. She has her recordings with Naxos and other recording companies. Ms. Dichenko earned prizes at different competitions, including a chamber music competition in Donetsk, Ukraine, and Sergey Taneev's International Competition of Chamber Music in Kaluga, Russia. She has participated in different festivals, among them Piano Texas International Festival.
Ms. Dichenko is proud to be a member of local orchestras. She has been playing with Las Colinas Symphony Orchestra since 2012 and is a Concertmaster of McKinney Philharmonic Orchestra.
Ms. Dichenko currently teaches at Fort Worth Country Day and leads violin ensemble at Fort Worth Suzuki school. She enjoys playing with local musicians and groups.
Daria Kiseleva, Piano

Pianist Daria Kiseleva received her early professional training from Gnessin State Musical College and Moscow Tchaikovsky Conservatory in Moscow, Russia. A winner of numerous international piano competitions, Ms. Kiseleva has performed in major performance halls around the world, including Carnegie Hall; Theatre of Champs Élysées, Salle Gauveau, Salle Cortot (Paris, France); Great Hall of the Moscow Conservatory (Russia); Theatre Municipal of Rio de Janeiro, Sala Sao Paolo (Brazil); Bellver Castle (Palma de Mallorca, Spain); and Theatre Curci (Barletta, Italy).
Since moving to the United States in 2014, Ms. Kiseleva received the Lay and Mattie Powell Piano Scholarship at the Texas Christian University (TCU)School of Music to pursue an Artist Diploma degree. After graduating in 2017, she toured as a Guest Artist, performing solo recitals and collaborating with major orchestras (Brazilian Symphony Orchestra, the Orchestra de Experimental de Repertório, Orchestre de Chambre de Paris, El Paso Symphony Orchestra, OLES Symphony Orchestra) at Londrina Festival and Festival VII Virtuosi Gravata (Brazil), Schlern International Music Festival (Italy), Aptos Keyboard Series (Monterey Bay, USA), Impromptu! Classical Music Recital Series (USA) and International Odyssiad Keyboard Festival (USA). Currently, Ms. Kiseleva continues her studies, pursuing a DMA in Piano Performance at TCU School of Music. She is a recipient of the LAAS and Judith Solomon Chamber Music Awards from TCU. Ms. Kiseleva has taught in private schools, studios, masterclasses, and workshops in Russia and the U.S. She enjoys working with and helping students of all ages get inspired and creative in understanding the art of music.
Quint Olsen, Guitar

Quint Olsen is a guitar educator living in Fort Worth. He currently runs a guitar studio as part of The Conservatory at Fort Worth Country Day and teaches private lessons at Music Place Mansfield.
Mr. Olsen was born and raised in Northern Utah, where he earned a bachelor's degree in Guitar Pedagogy and Music Education from Utah State University. Upon completing college, Mr. Olsen opened and ran a successful studio, teaching private students full-time, while maintaining a full performance schedule.
In 2001, he moved to Las Vegas to run the guitar program at Cram Middle School. Under his direction, the Cram Guitar Ensemble grew to be one of the largest and most successful middle school guitar programs in Nevada, with more than 300 students enrolled each year. The ensemble received Superior ratings, placing first place in multiple festivals and competitions, was featured on local TV and in local newspapers, and was invited to perform at many prestigious events, including the Guitar Foundation of America Regional Symposium and the Nevada Music Educators Association showcase concert. Mr. Olsen was awarded the 2005 Wal-Mart "Teacher of the Year" award in the community for his work with the ensemble. His students have gone on to play with some of the best high school and university guitar ensembles in the state, including the University of Las Vegas Guitar Quartet.
After 15 years directing the Cram Guitar Ensemble, Mr. Olsen moved to Fort Worth. He has served as educational director for Guitar Fort Worth and runs several after-school guitar programs in Fort Worth ISD schools, in addition to his work in The Conservatory at FWCD.
Laura Ospina, Cello

Laura Ospina completed her advanced studies with the polish pedagogue Henryk Zarzycki at the National University of Colombia in 2002. In 1999, she won the national competition "Roberto Mantilla" to play as soloist with the Symphony Orchestra of Colombia, and, after that, she has played as soloist with the foremost orchestras in Colombia and has presented recitals in the main concert halls across Colombia. From 1999 to 2000, Ms. Ospina was Principal Cellist of the Cundinamarca's Philharmonic Orchestra. From 2000 to 2003, she played as Assistant Principal at Bogota's Philharmonic Orchestra, and, from 2003 to 2008, she served as Principal Cellist at the National Symphony Orchestra of Colombia.
In recent years, Ms. Ospina has been actively teaching. From 2004 to 2008, she served as the Cello Professor at the Central University of Bogota and the University of Andes. She has been part of international Festivals as FOSJA (Puerto Rico), International Piano Festival (Colombia), Carlos Prieto Cello Competition (Mexico), Chamber Music Festival (Cuba), Sabaudia Music Festival (Italy), Carpineto Romano (Italy) and National University Cello Festival (Colombia).
In 2009, Ms. Ospina was invited as soloist with the Holguin Symphony in Cuba, and during 2010 and 2011, she was part of the International Chamber Orchestra in Rome, Italy. In 2013, Ms. Ospina played as soloist with Las Colinas Symphony Orchestra and Latina Philharmonia in Italy. In 2016, she played as soloist with Fondi Chamber Orchestra in Italy.
Ms. Ospina finished her master's degree at Texas Christian University, under the tutelage of Dr. Jesus Castro-Balbi. Currently, she plays as Principal Cello with Las Colinas Symphony, Odysseus Chamber Orchestra and San Angelo Symphony. She also serves as tutti section for East Texas Symphony Orchestra, Plano Symphony, Irving Symphony and Abilene Philharmonic.
She is currently Cello Professor of Mountain View College in Dallas and Fort Worth Country Day. Ms. Ospina lives in Fort Worth with her husband, Italian clarinetist Ivan Petruzziello, and their children, Tomas and Olivia.
Igor Parshin, Piano

Igor Parshin graduated from the famous Gnessin State Musical College (2008) and Gnessin Russian Academy of Music (2015) with the highest marks in his class. He studied with Irina Temchenko and the world-renowned Tatiana Zelikman. In 2015, he received the coveted Lili Kraus Scholarship at the TCU School of Music and completed the Artist Diploma program under the guidance of Dr. Tamas Ungar in 2018. In 2020, Mr. Parshin completed the Master of Music program in Collaborative Piano at TCU under the guidance of Dr. Michael Bukhman.
Mr. Parshin is currently pursuing a Doctor of Musical Arts degree at TCU. In the Spring semester 2023, he served as a Collaborative pianist at Tarleton State University, Stephenville, TX.
Mr. Parshin has successfully participated in many international piano competitions, winning first prize in the "Ciudad de Huesca" International Competition in Huesca, Spain in 2005; first prize in the International Piano and Chamber Music Competition "21st Century Art" in Kiev, Ukraine in 2006; and first prize in the Concorso Internationale "Don Vincenzo Vitti" in Castellana Grotte, Italy in 2014. Mr. Parshin also received The Marina Bondarenko Memorial Prize 2016 in Israel, and the Judith Solomon Award in Vocal Accompanying in 2020. Mr. Parshin has performed in numerous venues in Russia, United States, Ukraine, Belarus, Spain, Italy, Germany, Hungary, and Israel. He received many return invitations to such festivals as Rachmaninoff International Music Festival, Chamber Music Festival of Music from Ireland and Russia, and the Tel Hai International Piano Masterclasses in Israel.
Mr. Parshin recently performed numerous piano recitals and concerts on board the cruise ship Le Commandant Charcot, visiting Antarctica. In the summer of 2022 and 2023, he received an invitation from the PianoTexas International Festival & Academy in Fort Worth to participate in the event as a collaborative pianist. In the summer of 2023, Mr. Parshin also played in the Texas Chamber Music Institute, and the Basically Beethoven Festival in Dallas, playing Saint- Saëns Carnival of Animals with Metamorphosis Dallas Chamber Orchestra.
Mr. Parshin is very happy to be joining the Music Conservatory at FWCD in the fall of 2023.
Martin Shahbazyan, Piano

Martin Shahbazyan was born in Yerevan, Armenia. He earned his Master's degree and graduated from TCU in 2023. Before coming to Texas, Martin Shahbazyan also graduated from Yerevan Komitas State Conservatory in 2020 majoring in piano performance
Mr. Shahbazyan started to play the piano at the age of four in Armenia. He graduated from the Tchaikovsky Specialized Music School in 2016. During these years, he participated in many national and international competitions and festivals. In his senior year at YSC, he was awarded first prize in the Chamber Music Competition. In his junior year, Mr. Shahbazyan was the first and only student in his Conservatory to win an ERASMUS scholarship to study at the Turku University in Finland. In 2017 Mr. Shahbazyan won the 4th annual Arno Babajanian International Competition and received a special prize for the "best performance of Babajanyan's work". In the same year, he premiered the piano preludes by Haro Stepanyan at the 8th Armenian Composers' Art Festival in Yerevan.
Besides his career as a classical pianist Mr. Shahbazyan is also the pianist, singer and composer for his band "HIGH" since 2014. He also composed for theatrical performances such as "Hovnan" in 2017. He performed with the State Jazz Orchestra of Armenia in 2017 at the Armenian National Academic Theatre of Opera and Ballet.
In 2018, he won the first prize and five special prizes as an accompanist at the 6th Heghine Ter-Ghevondyan Competition in Yerevan, Armenia.
Since 2018, Martin Shahbazyan has also been working as an accompanist and piano tutor at the Sayat-Nova music school in Yerevan. In 2018, he performed a solo piano recital at the Sigyn Hall in Turku, Finland. Martin recently received the Grand Prix of the Harmonium Onlineplus IMC, an International Competition in which contestants participated with a demanding and wide-ranging repertoire. Mr. Shahbazyan also received the first prize for the 47th Annual Pi Kappa Lambda Honors Competition and first prize for the Franz Liszt Center International Piano Competition.
Mr. Shahbazyan is excited to join the music faculty in the Music Conservatory at Fort Worth Country Day in the fall semester of 2023.
---
Flickr album: Music Conservatory at FWCD
|
Height: 500px
|
Theme: Justified | Skin: Default Skin
---
View the Winter Spotlight 2022 Performance Videos